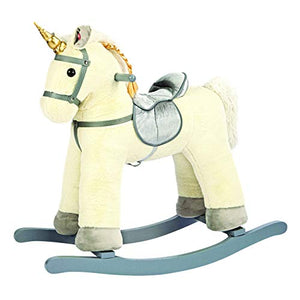 All Things Unicorn
White Grey Blue Plush Unicorn Musical Rocking Horse for Kids from 36 months old. up to 50 Kg weight
White Grey Blue Plush Unicorn Musical Rocking Horse for Kids from 36 months old. up to 50 Kg weight
Features:
DESIGN - This beautifully crafted unicorn rocking horse comes in a gorgeous soft white and grey colour that will please all unicorn lovers.
SOLID CONSTRUCTION - Solid wood sturdy rocker frame for safe rocking for children up to 50 kg. Size: 76x30x74 cm
MATERIAL: A supersoft fur and soft padded body makes it feel like a real horse. The soft padded, saddle seat make the ride very comfortable.
REALISTIC - when the ear is presed, the unicorn rocking horse makes rattle sounds that make it even more real.
DEVELOPEMENT - The unicorn rocking horse will bring the smile to your child´s face and also train his rythmic and balance skills.
Binding: Toy
Languages: English
---
More from this collection