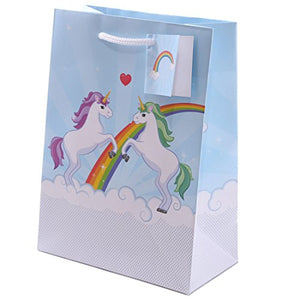 All Things Unicorn
Rainbow Unicorn Blue Gift Bag Size 17 x 9 x 23cm
Rainbow Unicorn Blue Gift Bag Size 17 x 9 x 23cm
Color: Blue
Features:
Cute Rainbow Unicorn Blue Gift Bag Size 17 x 9 x 23cm
Binding: Kitchen & Home
Publisher: Puckator
Details: Fun Unicorn Design Medium Glossy Gift Bag Need something to add the final touch to your special gift, then look no further than our fantastic selection of gift bags. Our beautiful collection of designs includes something for kids and adults of all ages and tastes, with floral, funky, cute and colourful designs available. Each bag is made from glossy card and comes with gift tag and handles. Only one design of gift bag is available, some designs have different prints on each side.
EAN: 5055071714184
Package Dimensions: 9.3 x 6.8 x 0.2 inches
---
More from this collection