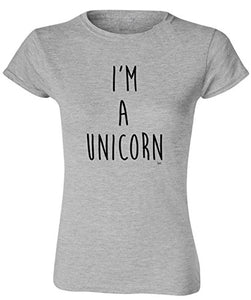 AllThings-Unicorn
I'm A Unicorn Ladies Ryware T-Shirt - Grey 14
Brand: Ryware
Color: Grey
Features:
Quality Printed T-Shirt by Ryware
Printed onto a premium soft 100% cotton Ryware ® T-Shirt
Vibrant printed design
Machine washable
Self bound arm & neck holes, twin needle hem stitch detail, shaped side seams. A lovely treat for yourself or a gift for another.
Details: 100% cotton, high quality printed T-shirt by Ryware ®

This premium T-shirt is manufactured for Ryware ® and features a printed design which will not crack or peel after repeat washing. This garment has self-bound arm and neck holes, shaped side seams for a more feminine fit and twin needle hem stitching. The garment is machine washable and the print will remain bold and vibrant for you to enjoy for years to come.
Sizes Available
• U.K. Size 8
•U.K. Size 10
•U.K. Size 12
•U.K. Size 14
•U.K. Size 16
•U.K. Size 18
This garment is brought to you by Ryware ®, enjoy fast dispatch, quick delivery and excellent customer service when you purchase from us