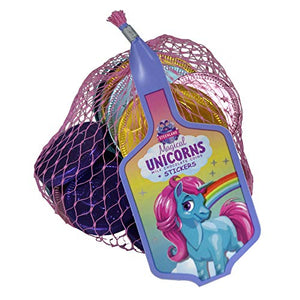 All Things Unicorn
Magical Unicorns Milk Chocolate Coins 60g Net (Approx 15 Coins)
Magical Unicorns Milk Chocolate Coins 60g Net (Approx 15 Coins)
Features:
Perfect for party Bags
Approx 15 Brightly Coloured Coins
Large Coins have Jazzy Unicorn stickers
Good quality Chocolate (28% cocoa)
Publisher: Steenland
Details: Unicorn Milk Chocolate Coins - A 60g Net of Milk chocolate coins wrapped in colourful foil with Unicorn stickers and or imprinted images. Description - A Net of Milk chocolate coins that vary in size and are sealed in a colourful foil consisting of purple, pink, yellow and silver colours. These coins have magical Unicorn embossed on the foil as well as a unicorn sticker on the larger coins. due to the bags being factory sealed we can not guarantee colours or coin sizes/designs/colours - random mix.
EAN: 8718800004419
Package Dimensions: 3.6 x 2.2 x 1.0 inches
---
More from this collection