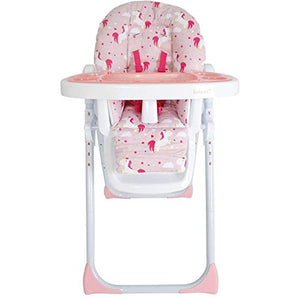 All Things Unicorn
My Babiie Katie Piper Unicorn Highchair
Pink Unicorn Katie Piper Deluxe Highchair Review
Wow - we absolutely love the unicorn theme on this baby high chair, it is just so cute. 5 point adjustable harness, folds down and easy to keep clean! 4.5 unicorn stars for this one.
This one is our top choice unicorn themed baby high chair. We love the design but also the practicality of this chair. It can be easily folded down and tucked away when not in use and it has an adjustable 5 point harness. To top it all off this also has a removable and washable seat cover which is priceless when it comes to keeping things clan and hygienic. To summarise: easy to clean, adjustable harness, folds away and sporting a beautiful unicorn theme!
We love Katie Pipers range for My Babiie, great design at an affordable price. Also within her range is a stroller, changing bag and changing mat which are also available on our website. This is a super special offer!
[widgetic-facebook-like id=5a6cdf54ecb2a1f62f8b4567 autoscale=on width=430 height=62 resize=fill-width]
5 Unicorn Star Rating from us.
---
More from this collection