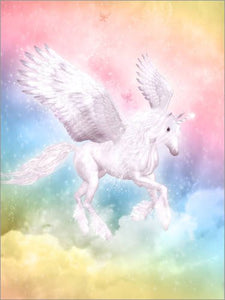 AllThings-Unicorn
Unicorn Pegasus Poster 30 x 40 cm - Art Print Canvas
Brand: POSTERLOUNGE
Features:
Look: Silky and glossy look for optimum viewing
Material: Printed on bright white premium photo paper (>200 g/m ²)
Colour: High UV-resistance and maximum colour brilliance
Handling: Shipped rolled and securely packaged in sturdy shipping tubes
Warranty: Quality printing from the POSTERLOUNGE® brand
Details:
High-quality posters on premium paper
Our posters are high-quality poster prints. Using UV-resistant inks creates fluid colour transitions on coated, bright white premium paper at high resolution, excellent edge sharpness and brilliant colours with outstanding protection against fading. The satin finish of premium photo paper of a weight of >200 g/m² gives a satin look with low reflectivity in poster printing.
The advantages at a glance:
- Low reflectivity thanks to matt-deluxe finish
- Printed on premium photo paper (>200g/m²)
- Attractive price/performance ratio
- High UV-resistance and maximum colour brilliance
- Very suitable for standard picture frames
- Securely packaged in sturdy shipping tubes
Brilliant colours thanks to six-colour printing with UV-resistant ink
The rich colours, emphasised by the pure white paper, arise with the newest six-colour printing technology, which allows for optimal tonal gradation, sharpness and resolution. We use solvent-free printing ink and guarantee an absolutely odour-neutral print product. This makes the poster more resistant to fading. We offer you a three-year warranty on our posters (for indoor use).
Our poster are securely packaged and shipped
Order premium photo posters or art posters from Posterlounge and be amazed by the matt-deluxe quality photo paper. We pay attention to high professionalism in packaging and shipping and deliver our posters with DHL, wrapped in protective paper and in sturdy shipping tubes. That means your poster arrives safely at your home.
---
More from this collection