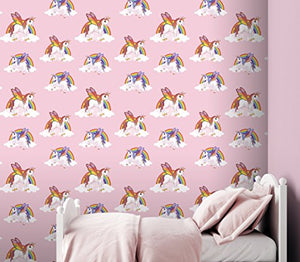 All Things Unicorn
Rainbow Unicorn Wallpaper- Pink Multicoloured
This lovely pink wallpaper has a real 'My Little Pony' feel to it. With a vibrant repeat pattern of brightly coloured unicorns with rainbow wings sitting within clouds and rainbows. This is the perfect look for any child who loves unicorns or my little pony!
Set against a bright pink background this wallpaper will certainly make a big design feature of any room. It would work perfectly in a bedroom, but could also be used for a playroom or nursery. 
This wallpaper is brought to you from Kid Collection.
Its size is: 10.5 x 0.53m 
Approx: 5.32msq
---
More from this collection