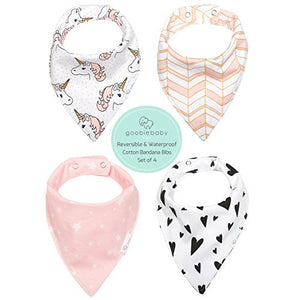 AllThings-Unicorn
Reversible & Waterproof Cotton Baby Bandana Drool Bibs for Girls, Pack of 4 (Unicorn)
Brand: Goobie Baby
Color: Pink & Gold Unicorn
Features:
TRIPLE LAYER PROTECTION - Is your baby a little drooling machine? While most bandana bibs are water resistant, Goobie Baby's innovative bandana bibs are waterproof, keeping baby and clothes dry. Two outer layers of Soft, Absorbent 100% Cotton keeps baby comfortable with NO POLYESTER! The inner layer is High Quality 100% Cotton Terry with Waterproof Lining - no loud crinkly plastic. Mum Designed, Baby Approved.
CUTE, STYLISH AND COMFORTABLE - A Must Have for Everyday Use. You'll love having the REVERSIBLE option to dress baby in either the stylish print or solid side to match his/her outfit. Keeps Dribble and Drool Off of Baby, Infant, Toddler Clothes. Gentle to the touch helps keep babies tender skin dry and rash free. Great alternative and more comfortable than plastic bibs or polyester fleece lined bibs.
EASY SNAPS ENSURE BIB STAYS ON - Concerned that your baby's neck won't fit? No problem. Goobie Baby Bibs come with 2 Nickle-Free Adjustable Snaps, allowing these bibs to fit growing babies from newborns all the way up to 36 months old. They Stay on Even While Baby is Playing Freely. These are a great alternative to velcro straps which are easy to pull off and ruin clothes in the wash. As with all bibs, never keep bib on baby while sleeping.
PERFECT BABY SHOWER GIFT - Have a friend that's going to have a baby soon? Introduce her to these cute bibs. Goobie Baby Bibs make for a Unique and Fun Gift for Baby Showers, Birthdays, Christmas and Any Occasion! Perfect Gift Basket Set!
SATISFACTION GUARANTEED - We founded our company in hopes of simplifying parenthood so that you can spend more time enjoying your little one. If our products don't live up to your expectations, let us know and we will fix it!
Details: Is your baby a little drooling machine? Your days of wet baby clothes are over!

Keep your adorable babies dry in these cute and fashionable bandana bibs, and keep those rivers of drool at bay.

Designed by a mom with years of New York fashion industry experience that was tired of not finding cute baby accessories in the marketplace, these bandana bibs were designed for all the modern mamas out there that want to keep their babies stylish, cute, and dry! We're the 1st to make bandana bibs WATERPROOF!

These innovative bibs are meant to help make your life easier while keeping your baby looking cute all day long!

They are designed with love by Goobie Baby and made with care by our partner factories that ensure every detail is checked.

We're here to give you patterns you'll love, soft cotton fabric, and adjustable snaps so the bibs can grow with your baby.

Your happiness is our mission, so if you're not in love with these bibs, we're only an email away!

Care Instructions: Wash bibs and dry thoroughly. Hang dry or tumble dry on low/medium heat setting. To prevent mold, never store damp bibs. Always dry them thoroughly.

Only the best for baby!
• 100% soft cotton on both sides
• No polyester fleece that pills and irritates baby skin
• Waterproof lining and cotton terry inner layer so drool never soaks through
• Fashion industry trusted nickel free YKK snaps
• 2 adjustable snaps to grow with your baby
• Clean stitching to prevent fraying
• Free of BPA, lead, phthalates & latex
• Machine Wash Cold & Lay Flat to Dry or Tumble Dry Low
• Stylish print front and solid color back to match any outfit
• Perfect for keeping baby stylish and dry!

Looking for a cool baby gift for a friend that's going to have a baby soon (or yourself?). Click 'Add to Cart' to buy now!
UPC: 634753521224
EAN: 0634753521224