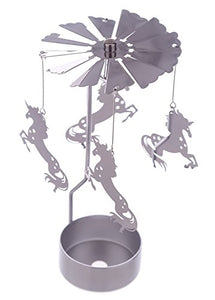 All Things Unicorn
Unicorn Design Metal Tea Light Spinner | Silver
Unicorn Design Metal Tea Light Spinner | Silver 
Brand: Puckator
Features:
Unicorn Design Metal Tealight Spinner
Height: 14 cm Width: 6.5 cm depth 6.5 cm
Best gift element
Large quality
Original product presented by Bureze
Binding: Kitchen & Home
Part Number: 5055071715662
Details: Unicorn Design Metal Tea Light SpinnerAdd magic and light to your home with these lovely tea light spinners. The design is simple, you assemble your spinner and then place a tea light candle in the holder at the bottom. The heat from the lit candle will turn the spinner at the top and throw patterns from the hangers all around the room.Ideal for special occasions and parties, but remember as with any candle item always place on a heat proof surface and never leave unattended when lit.
EAN: 5055071715662
Package Dimensions: 5.7 x 3.9 x 2.5 inches
---
More from this collection