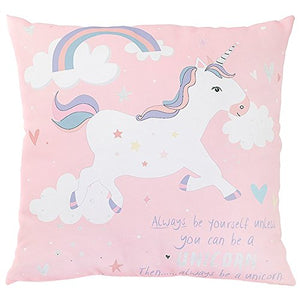 AllThings-Unicorn
Unicorn Pink Pastel Cushion "Always be..." 40x40cm
The perfect soft pink and squidgy cushion to bring out the unicorn theme in any girl's bedroom, playroom or nursery. This cushion features a cute little quote too "Always be yourself unless you can be a unicorn, then always be a unicorn". Well, unfortunately none of us can really be a unicorn (as hard as we might try), so therefore the real message here is an important one - "Always be yourself".
There are many ways to create a unicorn themed room and one of nicer ways to do this is by adding unicorn accessories with fabrics and textiles. This gives you the freedom to change the textiles as you wish and create new themes however and whenever you see fit to do so. 
Pastels are in! Pastel colours are back in fashion and trending right now and whoever famously said that pastel colours can't be made fun was well off the mark with these new designs. 
This is a complete cushion which means that it comes with the inner too, so you won't need to worry about purchasing that separately either.  
---
More from this collection