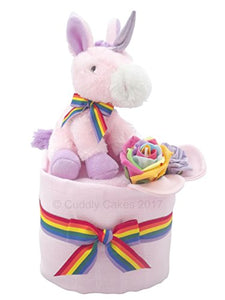 All Things Unicorn
Unicorns and Rainbows Baby Girl Pink Mini Nappy Cake Baby Shower Gift
A beautiful handmade gift for a baby girl, with a free gift message that can personalised at the checkout. A lovely unicorn rose and bow design, with subtle pinks and colourful extras. This nappy cake comes packed with essentials for baby / mummy, including pampers nappies, muslin cloth, baby washing cloth, the soft toy, scratch mitts and foam roses. 
Handmade gifts offer something that other gifts don't, and this one is truly beautiful and the kind thoughts are certainly not going to go unappreciated. A practical, beautiful, fun baby gift that is certain to serve a good purpose. 
Also comes with beautifully gift wrapped.